As the weather heats up, you're going to want to show more skin – and you'll probably want it to have a nice, healthy-looking glow. Get bronzed at KARMA! Our paraben-free airbrush tanning is consistently voted Best of the Best by Allure Magazine, and is the same brand used by the dancers and celebrities on Dancing with the Stars. Walk away from our body bronzing treatment with a simply flawless, safe and even glow for only $55.

If you've never had an airbrush tan before, there are a few things you should know. First, you'll want to have clean, exfoliated skin before you head in there. If you have a body scrub, use it in your shower. Washcloths and sponges may also be used to help scrub off your dead skin cells before you come to KARMA. You'll want to wear dark, loose-fitting clothing to be safe – though the airbrush tan we use typically causes little-to-no damage to clothing. You may also feel most comfortable getting sprayed in dark underwear. Juts be aware that anything you wear while being sprayed will leave tan lines, so aim for something that is the same size or smaller than a swimsuit.
The spray process is relatively quick, only taking about ten minutes. We strongly recommend only one layer of spray. You will see it turn darker and darker as it sets, ultimately achieving your desired shade after about 5-10 hours. As it sets, avoid showering or strenuous exercise. Your tan should last seven to 10 days.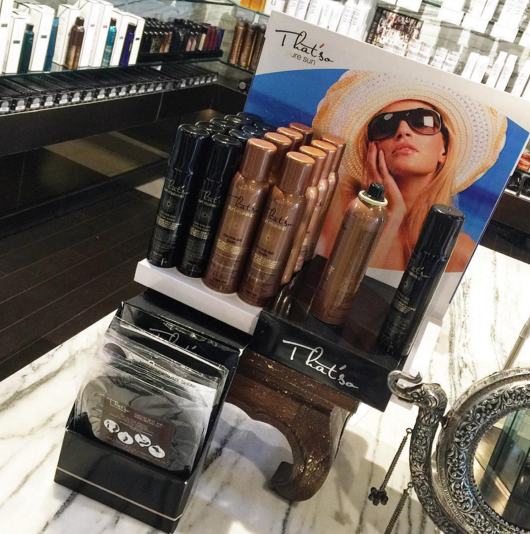 Though we are happy to spray your face as well, we generally recommend using makeup (bronzer) to darken your face, or use an at-home bronze spray product called That'So, which we sell at KARMA. We love this product; almost everyone on staff at KARMA uses That'So (including Erwin himself) at home to get a glow before special events!

To schedule your spray tan, call us at 202.293.3333.